South American Foods
South America includes many different countries with many different cuisines. Here we take you to adventure those countries to learn of those marvelous foods.
This page was done by Natalia Becaria.
Table of Contents: Countries in South America
Click on the titles to quickly reach them instead of scrolling!
---
Navigation Bar
---
Peru
Peru, bordered by the Pacific Ocean and located in western South America is known to have some of the best foods. Here we look at one of the most famous foods, ceviche. Ceviche served as an appetizer. Ceviche is usually made from raw fish or shrimp. Not only that, but it is marinated by lemon and/or lime juices. The acidity of the citrus allows proteins to arise and brings so much flavor to the dish.
Venezuela
Venezuela is located in northern South America and lies along the Caribbean Sea and Atlantic Ocean. Here in Venezuela, you will see the most iconic dish called Arepa. Arepa is made by soaking and pounding dried corn in a pilón. They are then shaped into cakes and cooked. They are similar to Mexican gorditas, Colombian empinadas or El Salvadorian pupusas. They are almost like tortillas but have a hint of a sweet taste.
Colombia
Colombia, a very tropical area, is located in northwestern South America. Colombia is also along the Caribbean Sea. Bandeja Paisa is known as the national dish of Colombia. This dish not only iconic but is Colombia's national dish. Bandeja Pasa cis made from beans that are cooked with pork, white rice, carne molida, chicharrón, fried egg, plantain, chorizo, arepa, hogao, morcilla and avocado.
Brazil
Brazil is located in the central-eastern part of South America. Brazil has a wide varieties of food, but the most popular would have to be Feijoada. Feijoada is the most famous Brazilian dish. It is a rich stew that consists of black beans cooked with different cuts of pork, supplemented with tomatoes, cabbage, and carrots to round out the flavor.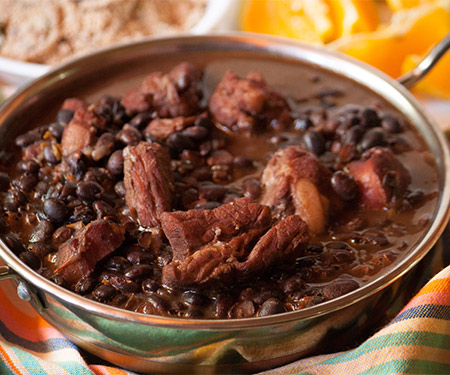 Bolivia
Bolivia is located in west-central South America. In Bolivia their food is very unique, a dish called Salteñas is notorious for not only it's taste, but because it is that national dish of Bolivia. Salteñas are a savory pastry that contains beef, pork or chicken mixed in a sweet yet spicy sauce.
Ecuador
Ecuador is located in the northwestern part of South America. Ecuador is known as the most environmentally diverse country. Ecuador's food is famous for Cuy which is a roasted guinea pig.
Guyana
Guyana is a country located in the northeastern corner of South America. Guyana is well known for the dish called PepperPot. PepperPot is the national dish of Guyana and is very well known for its flavors. Pepperpot is a stew that is made from stewed meat, flavored with cinnamon and cassareep, which is a special sauce.
---
Suriname
Suriname is a country located in the northern coast of South America and is the most ethnically diverse in the region. Suriname's most popular food is Pom. Pom is made from Arrowleaf elephant ear root which is locally called "pomtajer". Oom is Suriname's national dish and is known to be a festive dish.
---
French Guiana
French Guiana is on the north tip of South America. The most popular food in French Guiana is a specialty called Bouillon d'aoura. Known as the National dish, it is made from a wide range of animals. Bouillon d'aoura is made from smoked fish, crab, prawns, vegetables and chicken served with aoura which is fruit from savanna trees.
---
You've reached the end of this page. Scroll back up for more, or click here!
If you've read all these websites through, try one of these sites linked below for more information!